The Science of Garden Design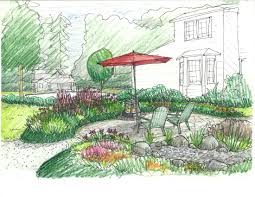 "We do not create picturesque gardens, but they take on picturesque forms from time to time." – Peter Latz
(Image-Sketches are effective in communicating the vision between the client, the landscape architect and the garden designer. Sriparna Saha is an architect in several projects in the Uttarakhand Himalayan region with sizeable landscape architecture and garden design components.)
Garden Design as a Concept
Before we get into the process of garden design, it is important that we chart out its evolution as a concept as it exists today. Unlike the formal concept of garden design as we know today, informally Man has been cultivating land since ages immemorial. In this process, man was creating spatial relationships as per his requirements.
Since then, man's natural garden designer instincts have been trying to gain control over his environment. Through a rather slow but steady process, the concept of garden design has evolved in the form of knowledge, skills and experience. This has been influenced by his wants, style, and fashion with the help of experimentation, travel and wealth.
The term 'design' generally connotes an area of specialization related to 'art' and the domain of artists. This is more so with garden design. This is because of the large plethora of choices available. The problem gets further aggravated as we leaf through the multitude of pictures put forth by journals and magazines.
Approach to Garden Design
It is common for clients to try and have a wish list comprising of images. Many a time, this leads to garden design scenarios, which actually contradict one another. It makes for a lot of confusion and gets us into the act of force-fitting them together making the exercise rather painful producing poor results.
Here, we shall be looking at garden design from a more fundamental point of view. Instead of being overwhelmed with a glut of ideas and pictures, we shall start with a clean slate. We shall be starting with questions to understand the activities that we want to do, the experience that we need, and finally the look that we want. Again, garden landscapes vary in the amount of time, effort and money needed to invest and maintain. In a nutshell, our approach needs to balance all of these factors for the process to generate a successful outcome that we cherish for a long time in the future.
So, the first objective should be to achieve the much needed clarity about the activities, experience and the look that we aspire for. After we have established this to a good extent, our objective would be to identify all those garden design elements that we like and that answer our questions. Here, the next step would be to check out the garden design journals and magazines for the various options possible, the current trends, local availability of plants (softscape elements) and fixtures (hardscape elements) and experiences of people who have used them.
Role of a Garden Designer
A good garden designer is a professional who brings in the domain and the technical expertise to work on our ideas. The garden designer should be sensing our requirements, understand our personality, life-style and help us arrive at solutions that resolve our needs. The look and the feel changes with time and with years as the landscape matures. This also changes with the seasons. In general, landscapes need heavier work in the summer and the spring and much lesser in the winter.
Having said this, the above approach outlined is a simplistic process to arrive at landscape design requirements. Life actually brings forth new ideas with its new turns and twists. We need to be conscious of this. At the same time, we should keep our mind open to ideas coming from knowledge, exposure and experience. The best landscape design is definitely something that evolves over time as we learn more and more about the place, the climate and our own personal needs and of course, likes and dislikes.
Using Local Plant Species – A Critical Element
An important point to note, the garden designer should also have a good in-depth knowledge about the plant species available. Knowledge of plant species is generally an overlooked area by garden designers and landscape architects. A deep knowledge of the local plant species and details of how these behave across the seasons and over the years greatly help. A good understanding of plants – as well as soils, water, geology, varying weather patterns and topography – help the landscape with its flora and fauna to reach the desired balance.
Local plant species are also more resilient and in general, require much lesser maintenance and attention. This can help in reducing our time, money and effort that goes into the garden landscape. With the initial landscape evolving and taking new shape and hues, it attracts significant interest of the owner to start with. However, with time, generally, the other urgencies of life take us away, leaving the garden landscape unattended. The important lesson here is that we need to work on a landscape design which is sustainable over the longer term.
Landscape Design in the Himalayan region
In the Himalayan region, the landscape architect has the advantage of a wide repertoire of plant species providing a variety of colors which are simply not available in the plains and in other parts of the world. For a change, the landscape architect and the team really has a problem of plenty when needing to decide on plants that will be appropriate to the site.
Getting Garden Design Right
Gardens are an essential element for life on the planet. The trees, shrubs and the herbs form the habitat for birds, squirrels and butterflies apart from other fauna and create a micro-environment which promotes co-existence and brings about a sense of balance and harmony into our life. On a larger scale, trees and plants help clean the air and water minimizing soil, water and air pollution and serve as a cushion against extreme variations of the climate.
Garden design, if done right, can definitely influence our senses which impact our emotions positively thus making us more productive and cheerful and which, in turn brings more joy into our lives.
In the near future, I shall be writing on the following General Blog Topics: Landscape Architect – Hardscape – Softscape – Xeriscape – Terrace garden design ideas – Vertical garden design – Garden design plants – Flower bed ideas – Himalayan plants – Buransh (Rhododendron Arboreum)
My Homestay Architecture Blog : Pahadi Ghar Homestays; My Home Renovation Blog : A Case of Home Renovation and Remodeling ; My Travel Blogs : My trips to the Himalayas – Uttarakhand Glacier Burst – My earlier travel blogs
About Sriparna Saha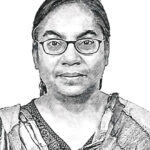 Sriparna Saha is an architect, based out of Dehradun, Uttarakhand. With an increasing focus on the environment and its sustainability, her projects in the Himalayan regions have sizeable landscape architecture and garden design components.
Apart from being a practitioner in landscape architecture , she also runs an academic program on landscape architecture at Graphic Era Hill University, Dehradun.
She is currently the Director, School of Architecture and Planning at Graphic Era Hill University, Dehradun.
Architect Sriparna Saha – Detailed Profile